Completes all Covid-19 Entry Requirements in Under 10 Seconds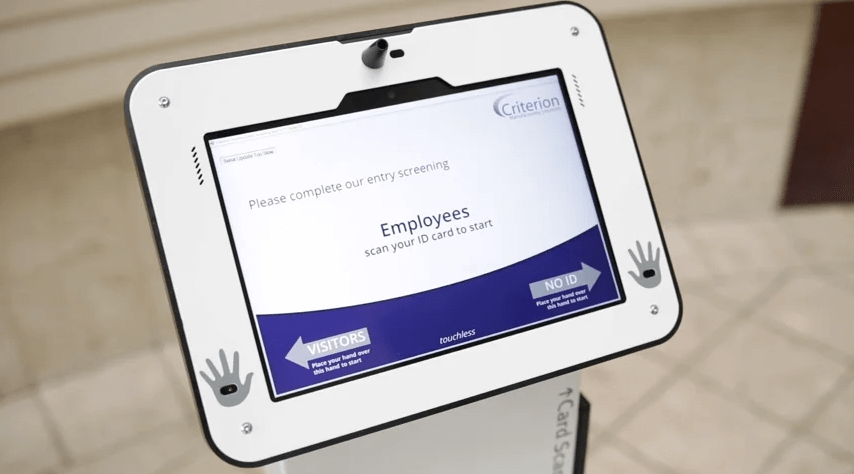 Criterion introduces a self screening kiosk designed to complete all COVID-19 entry requirements in less than 10 seconds. Individuals can scan in using an identification card, measure their skin temperature and answer questions all without touching the kiosk. If an individual does not meet the entry requirements during their self screening, an email is sent to designated staff members. Improve the safety, efficiency and effectiveness of your entry screening process with the touchless kiosk by Criterion.
Customizable Questionnaire
---
Fast & touchless using wave of hand or QR code
Skin Temperature Measurement
---
Accurate +/- 0.9°F
User Identification
---
Electronic ID Card or QR code
Alert Notifications
---
On screen, audible & email
Managed Data
---
Stored, accessible & secure
Customized Reports
---
Shift & Daily Reporting
Identify user, measure temperature & answer questions in under 10 seconds
Send alert emails immediately
Automatically collect data and create reports
Measure temperature using hi-grade sensors & multiple input data
Automated reporting is not subject to human error
Non-touch
Self-Screening – does not require close contact with other people
Prevent entry through staff notification or restricted access
Designed and built in Grand Rapids, MI
*Criterion's Entry Screening Kiosk is not intended for medical diagnosis and is not approved by the FDA*
FREQUENTLY ASKED QUESTIONS
We've compiled answers to some of the most frequently asked questions surrounding the Health Screening Kiosk. For more information and troubleshooting tips, please contact us.
Contact Us For Pricing & Availability